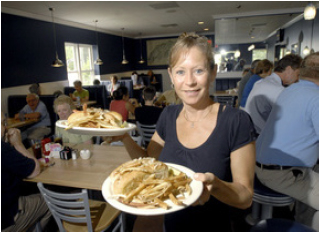 "Breakfast (or Lunch) at Bernie's Foreside Epitomizes the Essence of Family-style Fare. You can get a great scramble of cheese and sausage, or an egg sandwich with all the fixings on a toasted bagel. At lunch try a respectable grilled cheese with tomato. These dishes are served on big white square plates, enough room for the main event and fries or home-fries. Order right—keeping it basic and simple—and you'll get well fed indeed because this is family-style fare at its most elemental." Read more. -- John Golden, The Golden Dish.
We continue to offer our traditional Bagel Board takeout along with a full service breakfast and luncheon/dinner menu in addition to our traditional bagel menu.
Breakfast Menu Features: Eggs, Bennies, Omelettes and Scrambles; Pancakes and French Toast from the Griddle and the always popular Breakfast Sandwiches along with the popular bottomless cup of coffee.
Luncheon Menu Features: Soup & Chowda'; Classic Wraps & Sandwiches with hand-cut fries; Salads; Burgers; Seafood; Burritos & Quesadillas; Bernies' Kids menu and our bottomless cup of coffee.
No reservations required, but large parties should call ahead.
---
(207) 781-7817
Sunday
7 am to 2 pm

Monday, Tuesday, Wednesday
6 am to 2 pm

Thursday, Friday
6 am to

8 pm



Saturday


7 am to 2 pm

Credit Cards: Yes
Counter Service: Yes
Wait Service: Yes
Parking: Yes
Attire: Casual
Good for Kids: Yes!
Good for Groups: Yes
Reservations: Not necessary. Large parties should call ahead.
Delivers: No
Take-out: Yes
Wheelchair Access: Yes
Bernie's Bagel Board Features
An assortment of bagels from A (Asagio) to W (Whole wheat) with a variety of toppings.
Delicious sandwiches on a bagel, bread or a wrap including the ever popular Lox sandwich with 2 oz smoked salmon, cream cheese, capers, onions & tomato on a bagel.

Also featuring Southwestern Wrap two eggs over hard, salsa, refried beans and Cheddar; Garden Wrap Scramble eggs, cheese and a selection of garden veggies; Breakfast Burrito Scramble eggs, cheese and choice of meat & salsa; Breakfast BLT bacon, lettuce, tomato, mayo and egg; Breakfast Quesadilla w/2 eggs over hard, Cheddar, sausage, onions & peppers. See our Bagel Board for details.