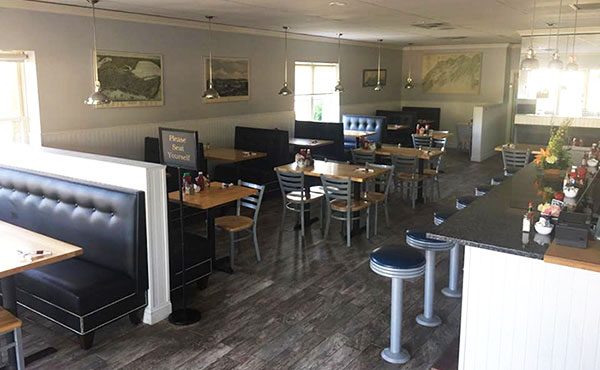 Have you seen our new look? Esidore's Bistro @ Night, a sister restaurant to Bernie's is operating in our shared space at night Wednesday thru Sunday evenings 5:00 p.m. to 9:00 p.m. Bernie's and Esidore's is a melding of space, culinary flavors, family, and history.

As many have come to expect through the years, early in the day, Bernie's provides proven hearty breakfasts and lunches rugged enough to get you through your workday or give you the energy for a day of touring and adventure. As the day winds down and evening hours approach, a new staff of friends and talent enter the space to provide a lighter fare of tastes from around the world.

Esidore's @ Night imparts an exceptional experience of culinary exploration with dishes originating from our own Maine roots and expands to include Asian, Indian, Mexican and British flavors. Coming from near or far, you may find the unexpected, but you won't go home hungry!

Whether you are here to eat at Bernie's during the day or Esidore's at night, you will enjoy cuisine that is truly American in nature, rooted in family, with a true melting pot of flavors and world wide influences.

This new venture is in the news and was featured a recent Portland Press Herald article about shared restaurant spaces. Read more here >>.

---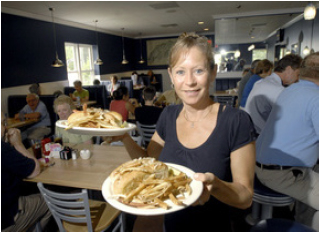 "Breakfast (or Lunch) at Bernie's Foreside Epitomizes the Essence of Family-style Fare. You can get a great scramble of cheese and sausage, or an egg sandwich with all the fixings on a toasted bagel. At lunch try a respectable grilled cheese with tomato. These dishes are served on big white square plates, enough room for the main event and fries or home-fries. Order right—keeping it basic and simple—and you'll get well fed indeed because this is family-style fare at its most elemental." Read more. -- John Golden, The Golden Dish.

Bernie's serves only breakfast and lunch 7 days a week and our menu will end at 2 p.m. We continue to offer our traditional Bagel Board takeout along with a full service breakfast and luncheon menu and our traditional bagel menu.

Breakfast Menu Features: Eggs, Bennies, Omelettes and Scrambles; Pancakes and French Toast from the Griddle and the always popular Breakfast Sandwiches along with the popular bottomless cup of coffee.

Luncheon Menu Features: Soup & Chowda'; Classic Wraps & Sandwiches with hand-cut fries; Salads; Burgers; Seafood; Burritos & Quesadillas; Bernies' Kids menu and our bottomless cup of coffee.

No reservations required, but large parties should call ahead.
---
(207) 781-7817
Bernies Hours

Sunday: 7 a.m. to 2 p.m.

Monday, Tuesday, Wednesday: 6 a.m. to 2 p.m.

Thursday, Friday: 6 a.m. to

2 p.m.



Saturday:

7 a.m. to 2 p.m.

Closed on Thanksgiving, Christmas, and Easter.
Monday Holidays Breakfast Only: 7 a.m. to 1 p.m.

Credit Cards: Yes
Counter Service: Yes
Wait Service: Yes
Parking: Yes
Attire: Casual
Good for Kids: Yes!
Good for Groups: Yes
Reservations: Not necessary. Large parties should call ahead.
Delivers: No
Take-out: Yes
Wheelchair Access: Yes

Mr. Bagel Hours

Sunday: 7 a.m. to 1 p.m.

Monday, Tuesday, Wednesday: 6 a.m. to 2 p.m.

Thursday, Friday: 6 a.m. to

2 p.m.



Saturday:

7 a.m. to 1 p.m.

Closed on Thanksgiving, Christmas, and Easter.
Bernie's Bagel Board Features
An assortment of bagels from A (Asagio) to W (Whole wheat) with a variety of toppings.
Delicious sandwiches on a bagel, bread or a wrap including the ever popular Lox sandwich with 2 oz smoked salmon, cream cheese, capers, onions & tomato on a bagel.

Also featuring Southwestern Wrap two eggs over hard, salsa, refried beans and Cheddar; Garden Wrap Scramble eggs, cheese and a selection of garden veggies; Breakfast Burrito Scramble eggs, cheese and choice of meat & salsa; Breakfast BLT bacon, lettuce, tomato, mayo and egg; Breakfast Quesadilla w/2 eggs over hard, Cheddar, sausage, onions & peppers. See our Bagel Board for details.